Short Intro About Lilith:

Lilith is not a goddess of sex or a demon mother or child murderer as claimed by jealous religion that tainted her reputation. She is a Goddess of equality, motherhood, fertility, animal protector and dark dragon goddess. Lilith empowers females and yin energy, is a protector of (family, children, animals and also helps to strengthen their bonds). Its obvious in ancient times that females were treated as dirty creatures, disrespected due to menstruation cycles, and suffered the wrath of man when he cannot make her obey to him. A lot of important scripts and understanding about spiritual knowledge is lost as it is the winners of war who write history. Both sex and menstruation is a way of spiritual life a way to cleanse and detox the body, a way to strengthen bonds, a way to release stress, a way to heal between lovers, to strengthen magick, and many more. In many religious point of views since religion is created by humans they have no idea what is the true spiritual way. Lilith isn't the one fully responsible the birth of succubus/incubus and vampire, she is just a part of the creators plan with other gods. Lastly, she's not a male hater because I myself is a human male. Trust no one and the best way is to confirm it by yourself by meeting her. To me she is just a beautiful wife that I known her as dragon.
Lilith: This spell will help you target and notice all sensitive spot naturally. Having fun time it should be done naturally rather than telling or ask your partner where to press the button or rub them. We're all animals except we can control to go against our nature which is why human don't have mating season and human can do it anytime they want. With the spell cast on you, relax and go with the flow that your instinct/spirit self move for you and guide you. This can naturally make you press your partner spot and your partner will naturally press your spot too. All our finger tip is sensitive with a lot nerve and can discharge electrostatic. Trigger sensitive spot will naturally turn on a person to build more life force and create a lot energy that makes sex even more spicier.

Here below is sensitive spot picture of male & female body for your reference. Useful for physical partner when needed. For astral beings they naturally can see all physical body sensitive spot. If you want to know where, ask your beings to press all the location for you.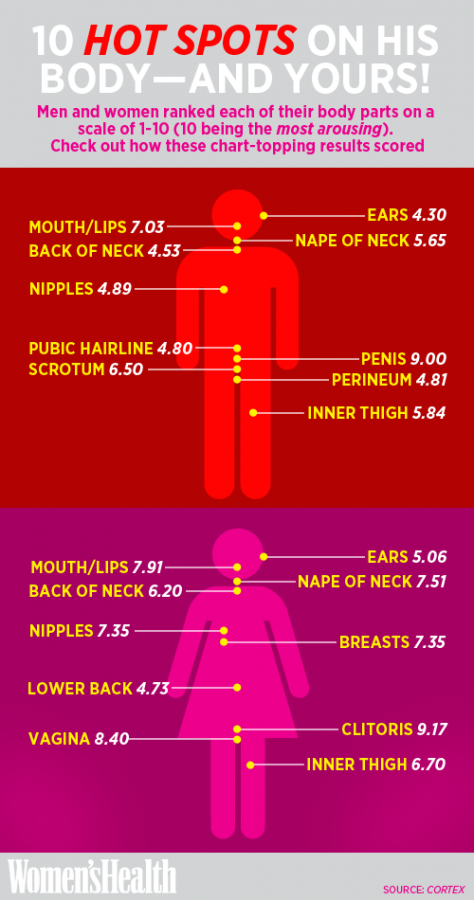 For physical human transgender especially those who have replaced or removed their sex organ. There will be issue where physical sensitive spot their nerve has been removed unless they replace with another real life organ. Still there is a way to regain those missing sensitive spot is by having astral/spiritual sex together with physical sex.
Anyway if you having tough time for your finger to reach the spot this spell is already made convenient for you. Example you just have to think **

trigger right nipple

** and the spell will press/bite/suck your partner right nipple, **

trigger left ear

** and the spell will blow your partner left ear, **

trigger scrotum

** and the spell will lick/rub the scrotum. The easiest part is think **

trigger all

** and the spell will trigger your partner all sensitive spot. Every spot the trigger act differently, there are press, suck, bite, blow, lick, rub, squeeze, zap and etc. If is to trigger yourself just say **

trigger me/my xxxxx

**.